Classical music for your formal dinner,
reception or any special occasion.
Imagine the beautiful strains of Mozart, Vivaldi, Haydn
or Pachelbel floating through the air at your event.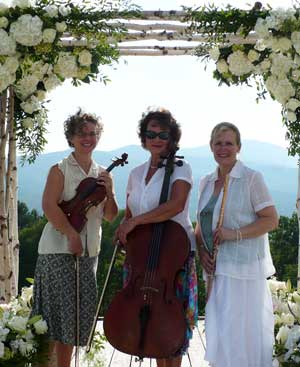 Classic Consort has enhanced hundreds of gatherings with beautiful music. The finest professional musicians make up Classic Consort. They play regularly with the Vermont Symphony, the Vermont Mozart Festival, the Vermont Contemporary Music Ensemble and other ensembles.
Founder Bonnie Klimowski is experienced at bringing the beauty of classical music to venues of all kinds. Indoors or out, daytime or evening, Bonnie and her musical partners will blend seamlessly and professionally with your event to create a beautiful musical atmosphere. She will work closely with you to choose just the right music to complement your celebration or event. She will guide you through the process of selecting your music and provide you with helpful advice, based on years of professional experience.
Whether you are celebrating special friends, a special occasion, valuable clients or employees, Classic Consort can add the touch of elegance that makes memories...
Contact us regarding availability and pricing.
You may also call or write:
Classic Consort | Bonnie Klimowski
PO Box 67, Fairfax VT 05454-0067
802.849.6900
bklimowski [at] gmail [dot] com

Music to Our Ears...
October 2010.
It has been a month since our wedding and it still feels like a dream. Everything just turned out to be so beautiful... and your classical music made it even more surreal and magical!
I have already told you that picking the music was my favorite part of wedding planning and I just can't imagine anybody better to work with than you!
Thank you so much for spending the time to talk to me, helping me to decide upon the instruments and advising me on the musical pieces. It was such a pleasure to work with you!
Sincerely, A.